Greg Gordon
SPINRANK: 54%
View History
Greg Gordon – an investigative reporter, has spent 33 years uncovering waste, fraud, abuse and misconduct in Washington. Since joining McClatchy's national staff in 2006, he has helped expose Wall Street's role in the 2008 financial crisis, partisanship in the Justice Department and gaps in U.S. homeland security. In 2010, he and colleagues Kevin Hall and Chris Adams were honored as finalists for the Pulitzer Prize for their financial reporting, which included Gordon's four-part series detailing Goldman Sachs' selloff of tens of billions of dollars in securities backed by risky home mortgages while it secretly bet that a housing downturn would send the value of those securities plummeting.
FAKE NEWS INVOLVING Greg Gordon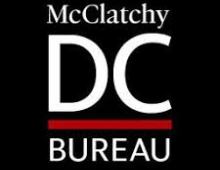 Greg Gordon acknowledges that neither he (ahem) nor his sources (double ahem) directly saw the underlying intelligence cited in the report. Gordon relies on the fact his "sources" have been right before. Outrageous. Journalistic malpractice. Where is the outrage?