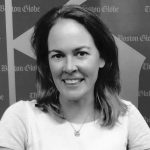 Annie Linskey
SPINRANK: 68%
View History
Annie Linskey is a national political reporter in The Globe's Washington, D.C. bureau. She has covered the White House and campaign finance for Bloomberg News. Before that she spent nine years at the Baltimore Sun writing about crime, city government, and state politics.
FAKE NEWS INVOLVING Annie Linskey

"Bustamante said he can tease out the markers that these South Americans would have in common with Native Americans on the North American continent." Huh?